Chabad Lubavitch UK marked the beginning of Chanukah 5772 by lighting the Trafalgar Square Menorah in front of a crowd of over 2000 people.
Boris Johnson, Mayor of London was the special guest at the ceremony. He spoke about the symbolism of the menorah and the connection to the theme of freedom. After a cou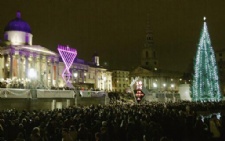 ntdown, he flicked the switch and the Shamash light came on, followed by the first candle. The crowd erupted into applause as the Shabbaton Choir led Haneirot Hallelu and Moaz Tzur.
A small army of Chabad students worked their way through the crowds distributing free menorah kits, chanukah guides, doughnuts and chanukah 'gelt'. F
ollowing the choir… Read More »