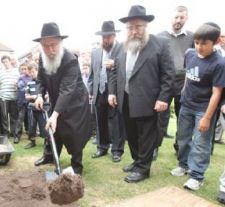 Some 150 people turned out last Sunday morning at Lubavitch of Edgware to a joint celebration making the groundbreaking of centre's new mikvah and Rabbi Leivi Sudak 50th birthday.
Supporters, friends and rabbis from all over London participated in the symbolic turning over of the soil, the mixing of cement and the laying the first stones of the new building. Among the honoured guests were Rabbi Nachman Sudak OBE, principal of Chabad Lubavitch UK; Rabbi Shmuel Lew, head of Lubavitch Senior Girls' School and member of the directorate of Lubavitch UK; Dayan Levi Raskin; and Rabbi Yitzchok Sandler, director of Aish in Edgware.
Rabbi Leivi Sudak spoke of his joy at being able to start the building work following the granting of planning permission.
"A farmer ploughs his field, cutting open the smooth surface of his land, so that he can 'receive' the blessing of the growth of his produce," he said.
"A groundbreaking cuts open the ground, so that it may receive the blessing of the new build. Giving charitably 'cuts open one's pocket' so that we can receive the 'provident blessing of abundance'. May all who engage in this project be blessed."
The new mikvah replaces the one destroyed by fire last year. It will be more than double the size of the old one and available for both women and men. Half of the costs have already been pledged and construction work is anticipated to commence after the September High Holy Day period.
All adults and children attending were invited to dig some soil and place specially selected stones into the cement. Following the ceremony, the participants were invited to a buffet celebrating Rabbi Sudak's 50th birthday.