1000s Around the UK Experience the Joy of Purim with Chabad
Families in Liverpool enjoy Chabad's communal Purim meal with shwarma, face painting, balloon modelling and children's masquerade.
Rabbi Zalman Lewis, director of Chabad on Campus on the South Coast, reads the megillah for students in Brighton.
Glasgow Lubavitch outreach director Rabbi Mendel Jacobs, in banana costume, distributes mishloach manot packages to the elderly.
As well as providing megillah readings on-the-hour every hour throughout Purim, Chabad of Edgware also entertained children with a live BMX bike display.
Some 170 adults and children attended Chabad of South London's most memorable Purim parties ever.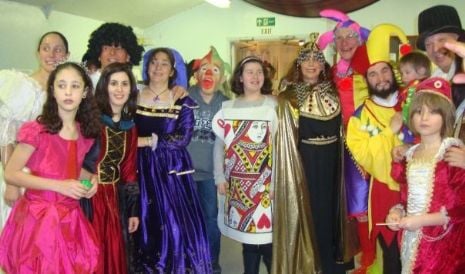 In Buckhurst Hill there was a Medieval theme for this years Purim celebrations.
Students in Central London experienced an authentic Persian themed Purim party at Chabad of Bloomsbury.
Children and parents enjoyed a Family Purim Party organised by Chabad of Cambridge.
Oxford got a taste of Latin America, as students and community members flocked to Chabad of Oxford's Purim party.
Rabbi Shmuel Arkish packs mishloach manot packages with students at Birmingham Hillel House. Nearly 100 packages were distributed to elderly community members throughout Birmingham.
50 students attended Chabad of Nottingham's Chinese themed Purim celebration.
Members of Leeds Jewish Women's Circle listen to Mrs. Chana Sara Danow, speak about Inner and Outer Beauty at their pre-Purim event.
For more photos, CLICK HERE.